Welcome! Bay City Gas Company is the natural gas utility for Bay City, Texas. This site exists to serve our customers and prospective customers. In it you will find information regarding:
Advantages of Natural Gas – great information at www.naturalgasgenius.com 
Despite recent swings in the price of natural gas, it remains an EXCELLENT, AFFORDABLE, RELIABLE energy source, all at about HALF the cost of electricity !
Customer Services – click here
Rebates – click here
—————————————————————————————————–
Drive-through access is from Avenue A, at 5th Street (just southeast of our building). Office Hours are 9:00 am to 4:45 pm Monday through Friday
—————————————————————————————————–
FOR EMERGENCIES ONLY, DIAL 979.245.two-three-one-one
and to help PREVENT an emergency – CALL 811 BEFORE you dig !! Digging deeper than 16 inches? Call – it's the LAW
Call us immediately if you smell gas or suspect a leak. We odorize the gas specifically to help find leaks. Help us by reporting anything you suspect to be a gas leak.
Please help us maintain a safe system – inspect your meter piping for damage or corrosion.
More information on our SAFETY page !
*Please remember that you MUST call 811 prior to digging deeper than 16 inches – mail box posts, fence posts, sprinkler system installations are examples of digging that might require a call to 811.
*Hissing sounds from the ground

,

bubbles from the ground

, frozen ground and patches of dead vegetation are all potentially signs of an underground pipeline leak.
*Please never, ever use a match to try to detect a gas leak! Leave the premises and call us at 245-two-three-one-one (or 911) and we will investigate.
Beginning in 2017, Excess Flow Valves will be installed on all new residential and business customers' service lines up to size 1,000 meters. If you would like more information about having an excess flow valve installed on your current service line, please check the SAFETY page and/or call our office at 979.245.2327
———————————————————————————————————-
PLANNING TO INSTALL A NATURAL GAS STANDBY GENERATOR? YOU MUST CALL US FIRST FOR IMPORTANT INFORMATION AND INSTRUCTIONS. ALSO REMEMBER TO ALWAYS CALL 811 AT LEAST TWO DAYS BEFORE DIGGING !
———————————————————————————————————-
DISCONNECTIONS for non-payment: disconnection orders carry a $45 fee; we cannot guarantee re-connection the same day; AND we do not perform after-hours re-connects
NOTICE: if you have been disconnected for non-payment, you MUST contact this office in person or by phone to make payment arrangements and restore service. You may NOT use the online or toll free number to make payment if you are disconnected.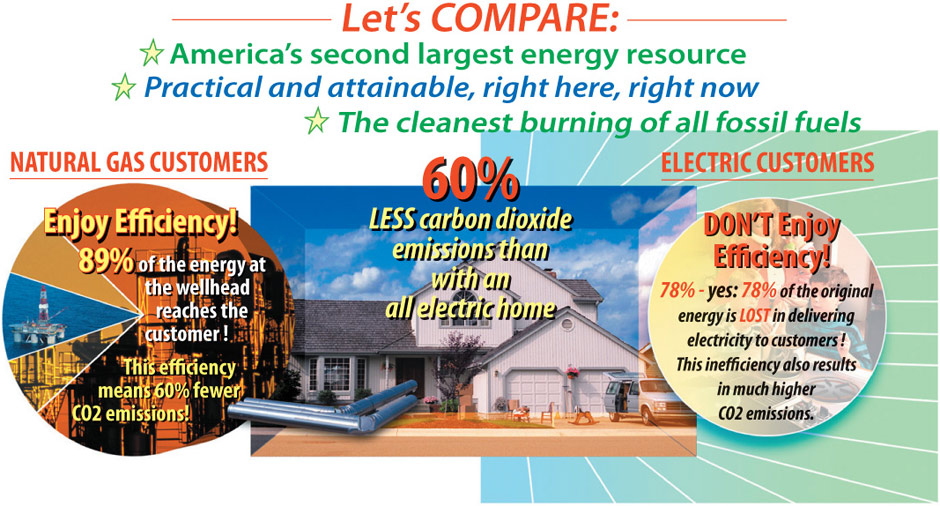 We are all becoming more sensitive to environmental issues, and we want to do "the right thing" with regard to the environment. For more environmental information, visit https://heartland.org/  and https://www.prageru.com/video/do-we-have-to-destroy-the-earth-to-save-it?playlist=what-science-reveals-about-climate-change
NATURAL GAS is:
> Practical and attainable, right here, right now
>America's second largest energy resource
> The CLEANEST BURNING of all fossil fuels, emitting 45% LESS carbon dioxide than the coal used to generate electricity
>Extremely efficient, with 89% of the energy at the wellhead reaching the end user (to deliver electricity to your home, 78% of the original energy is lost!); this efficiency translates to 60% LESS carbon dioxide emissions than with an all electric home, and improvements in appliance efficiency mean that the typical residential customer uses 20% LESS natural gas than they did 20 years ago. For more information, visit www.naturalgas.org
The ECONOMIC ADVANTAGES of natural gas:
Natural gas is domestically produced and refined; it is truly an American product
Operating profit from Bay City Gas Company stays in Bay City
Natural gas appliances offer better energy efficiency than their  electric competition
Natural gas appliances typically operate at MUCH lower costs than electric appliances
Natural gas water heaters produce hot water twice as fast as electric water heaters, at about half the cost
Natural gas clothes dryers operate at about half the cost of electric dryers (and the clothes come out softer!)
Natural gas cooking appliances offer instant on / instant off control, as well as precise adjustability
ADDITIONALLY,
We offer REBATES on gas appliances and installation costs ! See the CUSTOMER SERVICES page for details.