Compare! Natural gas homes enjoy amazing savings!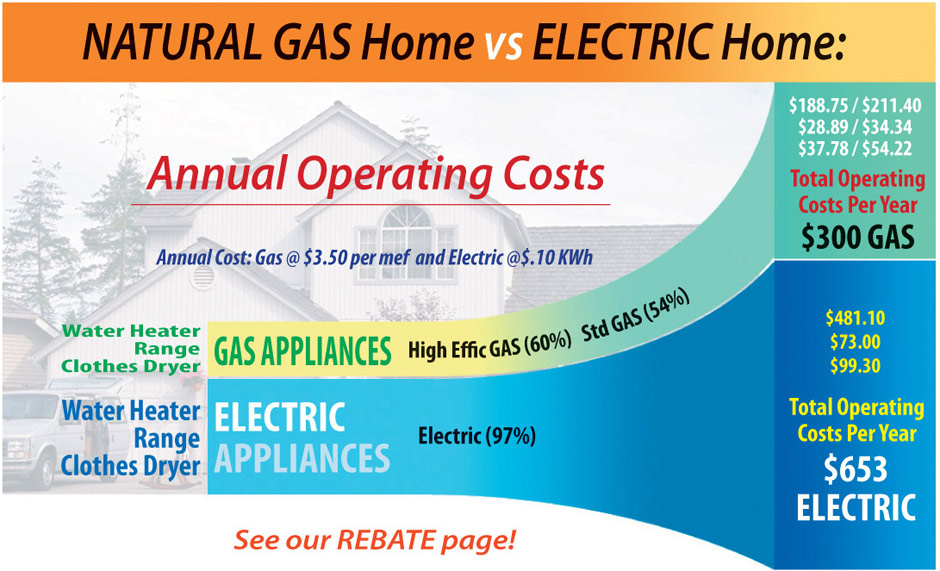 Save money year 'round with natural gas appliances !
COMPARE costs on a 'btu' basis :
Bay City Gas customers pay____________$16.48 per 'mmbtu' (June 2022)
Electric customers pay _______________$32.23 per 'mmbtu'(@$.11/kWh)
Propane customers pay_______________$25.00 per 'mmbtu'(@$2.30/gal)
IT'S CLEAR – HEAT WITH GAS AND SAVE !
Winter Heating Costs can be amazingly Low too! By using a NATURAL GAS FURNACE, setting your thermostat no higher than 72, avoiding prolonged use of exhaust fans in kitchens and bathrooms, you can save alot of money and be perfectly comfortable this winter.
More great information at https://www.fuelingthefuture.org
DID YOU KNOW? About heating your home with a natural gas fireplace…
Winter is an important season for natural gas because so many natural gas appliances help to keep people warm! These include fireplaces, water heaters, space heaters, hot tubs and fire pits.
Indoor and outdoor gas fireplaces and fire pits are easy to use – just press a button or flick a switch to immediately start a great fire. No worries about getting logs, stacking them, tending to the fire or cleaning up ashes.
The heat the fireplace creates is consistent, rather than fluctuating based on the number of logs or strength of the fire.
Gas fireplaces are safe because they do not have an open flame and do not experience the pops and cracks that throw off sparks.
During a power outage, you'll still be able to manually light your natural gas fireplace to heat much of your living space.
There has been an error.
We apologize for any inconvenience, please return to the home page or use the search form below.
3 Myths About Natural Gas Rebates!