Welcome! Bay City Gas Company is the natural gas utility for Bay City, Texas. This site exists to serve our customers and prospective customers. In it you will find information regarding:
Advantages of Natural Gas – click here
Customer Services – click here
Rebates - click here
FOR EMERGENCIES DIAL 245-2311
SPECIAL NOTES TO OUR CUSTOMERS:
During the month of JUNE 2016, we will be conducting a telephone survey of customers and residents of Bay City. This survey is used to evaluate how well we are educating the public about SAFETY as it relates to natural gas. PLEASE help us by participating !  The survey should only take a minute or two, and it helps us to continue to operate a SAFE and RELIABLE gas system.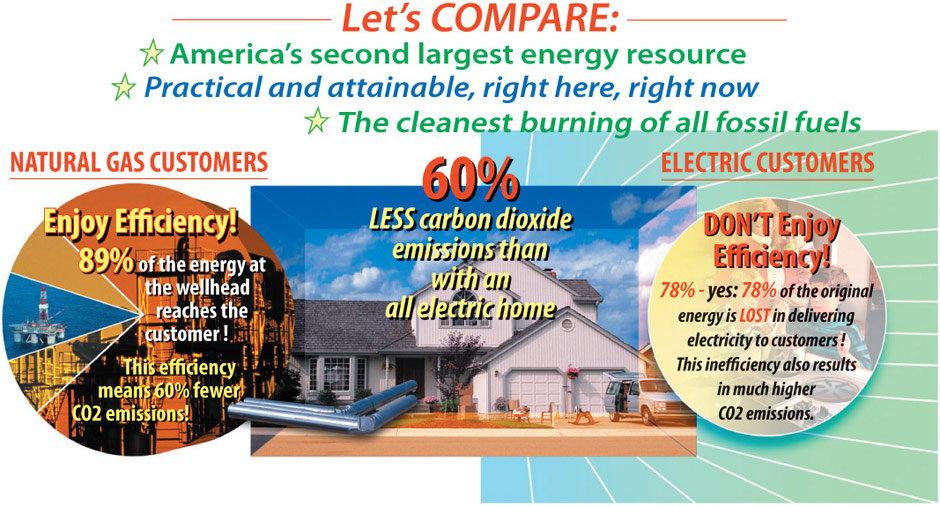 We are all becoming more sensitive to environmental issues, and we want to do "the right thing" with regard to the environment. NATURAL GAS is:
> Practical and attainable, right here, right now
>America's second largest energy resource
> The CLEANEST BURNING of all fossil fuels, emitting 45% LESS carbon dioxide than the coal used to generate electricity
>Extremely efficient, with 89% of the energy at the wellhead reaching the end user (to deliver electricity to your home, 78% of the original energy is lost!); this efficiency translates to 60% LESS carbon dioxide emissions than with an all electric home, and improvements in appliance efficiency mean that the typical residential customer uses 20% LESS natural gas than they did 20 years ago. For more information, visit www.naturalgas.org
The ECONOMIC ADVANTAGES of natural gas:
Natural gas is domestically produced and refined; it is truly an American product
Operating profit from Bay City Gas Company stays in Bay City
Natural gas is now priced at its lowest level in years
Natural gas appliances offer better energy efficiency than their  electric competition
Natural gas appliances typically operate at lower costs than electric appliances
Natural gas water heaters produce hot water twice as fast as electric water heaters, at about half the cost
Natural gas clothes dryers operate at about half the cost of electric dryers (and the clothes come out softer!)
Natural gas cooking appliances offer instant on / instant off control, as well as precise adjustability
ADDITIONALLY,
We offer REBATES on gas appliances and installation costs ! See the CUSTOMER SERVICES page for details.